Rancourt Land Clearing is a friendly, family-owned, Land clearing company. We provide tractor trailer services all of New York and Connecticut. Our tractor trailer the main workhorse in the Rancourt fleet of machinery. We have the expertise to move equipment in a safe, efficient, and timely manner.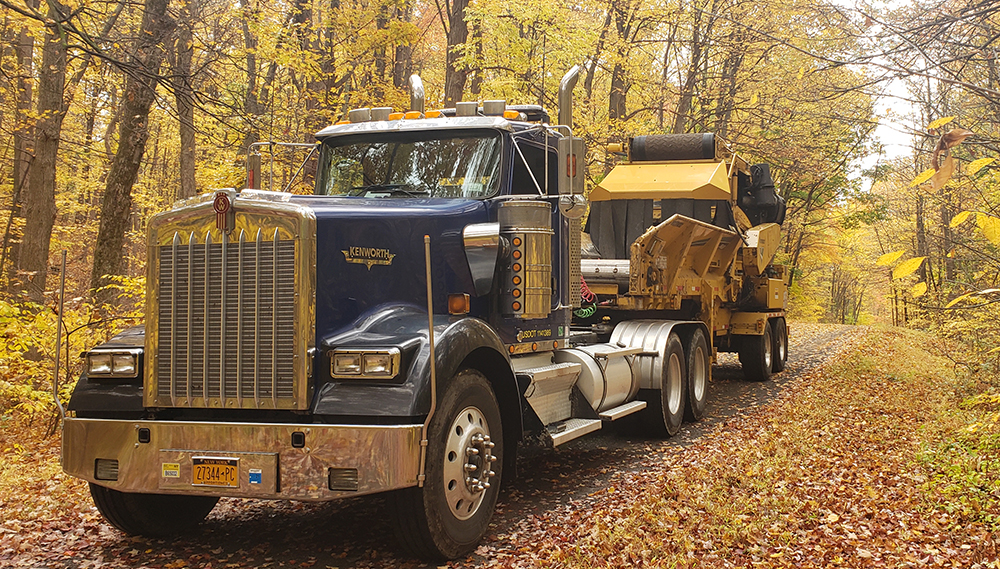 Equipment Mobilization is a Priority
Equipment mobilization is a priority, and our tractor trailer services plays a vital role in the commencement of land clearing or tub grinding projects. Our tractor trailer hauls and moves our equipment and machinery from job site to job site. All our equipment moving is handled in-house, providing the best possible service available for the arrival of our equipment on your next project. Large oversized equipment moving can be a challenge, however, we have the expertise to mobilize our fleet of equipment in a safe, efficient, and timely manner.
Our tractor-trailer is also used for the removal of wood chips and mulch from a job site. Wood chips are blown directly from our chipper into our 100-yard live floor trailer for removal and transport. If mulch from tub grinding needs to be removed, the trailer is either loaded from the conveyor of our horizontal grinders or loaded by our excavators. If your project requires the mulch or wood chips to be removed off-site, we can easily handle the task. We can also remove stumps and wood waste from a site with our trailer.
Contact Us today for more infomation on our Tractor Trailer Services.