Our tree clearing services are the first step in the land clearing process – and the first step to setting your construction site up for success. As a full-service operation, we start with tree clearing, but also offer stump removal, grubbing, grinding, and brush mowing to ensure your land is completely cleared and ready for construction.
Who Typically Uses Our Tree Clearing Services?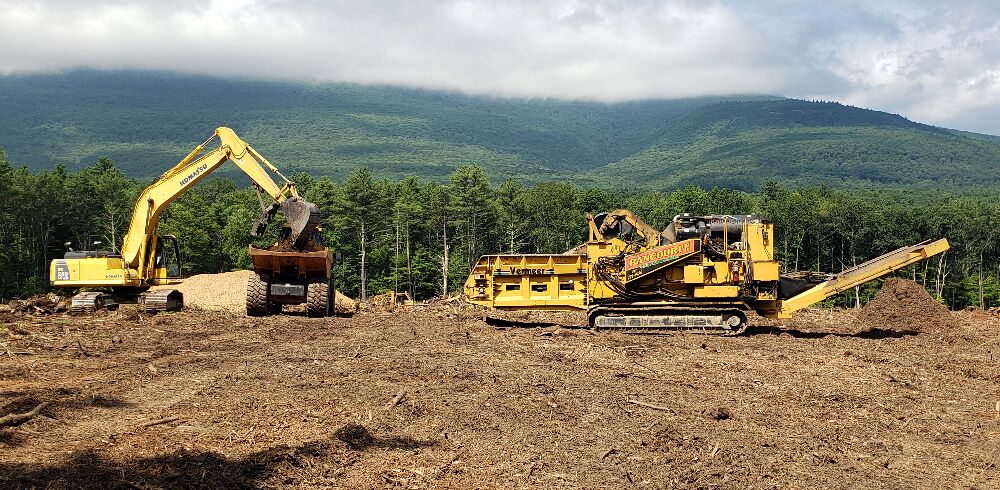 We offer tree clearing services to anyone in need of large-scale full-service land clearing. Our clients turn to us when they need to flatten and clear a large area of their property that is full of trees and overgrown vegetation.
We typically work with commercial and estate properties that are getting their land ready for construction but cannot begin until all obstacles are cleared.
We work on:
Commercial projects
Storm clean-up
Roadways
Farms
Development projects
Agricultural sites
Utility sites
Solar and energy sites
Most of our projects fall into one of the above categories, but really, we can work with anyone who needs help clearing large sections of land covered with trees and overgrown vegetation.
What Sets Our Tree Clearing Services Apart?
Our Experience
Our founder, Denis Rancourt, started his career cutting down trees well before he began Rancourt Land Clearing. Denis has been known in the industry as one of the best ever to operate a chainsaw, earning him the nickname "Mr. Chainsaw".
Denis and his son Peter – the current CEO at Rancourt – have vowed to maintain the highest standard in tree clearing services, adding new, innovative equipment to meet those standards year after year. All of our equipment is run by Peter or an expertly trained member of our team.
Our Customer Service
Up until the last decade or so, almost 100% of our business came from referrals and repeat clients. Now, with the internet, that number is still about 90%. We know that our reputation – and the livelihood of our business – is directly based on the satisfaction of our customers. To us, customer service is as important as the end product we provide.
Our Equipment
In the land clearing business, you can only do as good a job as your machinery allows. And we're proud to say that our machines allow us to provide our clients with the gold standard in tree clearing services. As one of the only companies in the area that owns and operates all of our equipment, we know our machines are the best this industry has to offer.
What kind of tree clearing equipment do we have? We have four modern feller bunchers that allow us to cut any size tree quickly and efficiently. Two of them are track feller bunchers, and two are rubber-tired feller bunchers. After trees are felled, or cut down, we use our whole tree chipper to chip and dispose of the trees.
What happens to the trees' wood chips? We can leave wood chips on site or haul them away. The result is a neatly cleared site with only stumps remaining.
But we do more than tree clearing...
As a full-service land clearing company, tree clearing is just one step of the entire process. The next step of the land clearing process involves Grubbing and Stump Removal. If you have a large lot in need of full-service land clearing, including tree clearing services – contact us today!