Rancourt's State-of-the-art Tub Grinders
Our fleet of modern horizontal grinders is second to none. These impressive machines allow us to offer on-site tub grinding services that almost no one else in the area offers.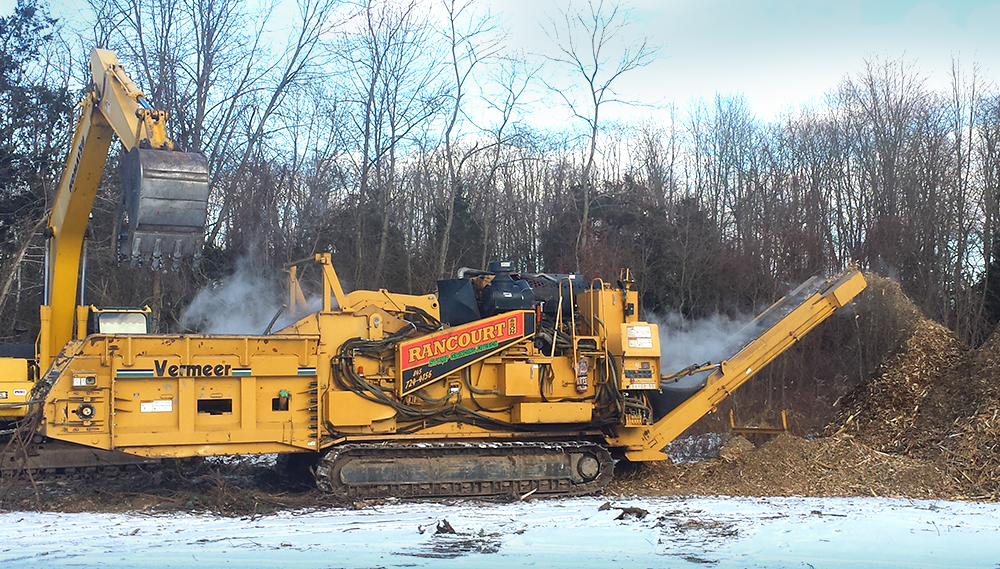 Rancourt Tub Grinding Services
We own two state-of-the-art Vermeer grinders to suit your site-specific grinding needs. One of our grinders is a remote-controlled track-driven unit, while the other is a rubber-tired unit. The track grinder is perfect for gaining access to remote stump piles in challenging locations.
This machine helps contractors save money because they will not have to transport stumps to a central location. This gives you the option to process multiple piles quickly.
Our second grinder is a towable unit. This state-of-the-art grinder can be mobilized and moved without any possibility of damage to roadways or blacktop. It is also equipped with the latest in tier 4 diesel emissions technology, helping to preserve the environment.
Both of our grinders are the perfect choice for grinding and downsizing brush piles, log piles, stump piles, green waste piles, or any wood waste piles. We can turn any unsightly pile of wood waste into valuable mulch, which can be used for landscaping or erosion control. Our ability to process stumps on-site can save valuable time and money by reducing trucking costs associated with removal.