As one of the only land clearing companies in Connecticut and the New York Hudson Valley offering on-site tub grinding services, we provide a smoother, cleaner, and safer transition to start construction on your land.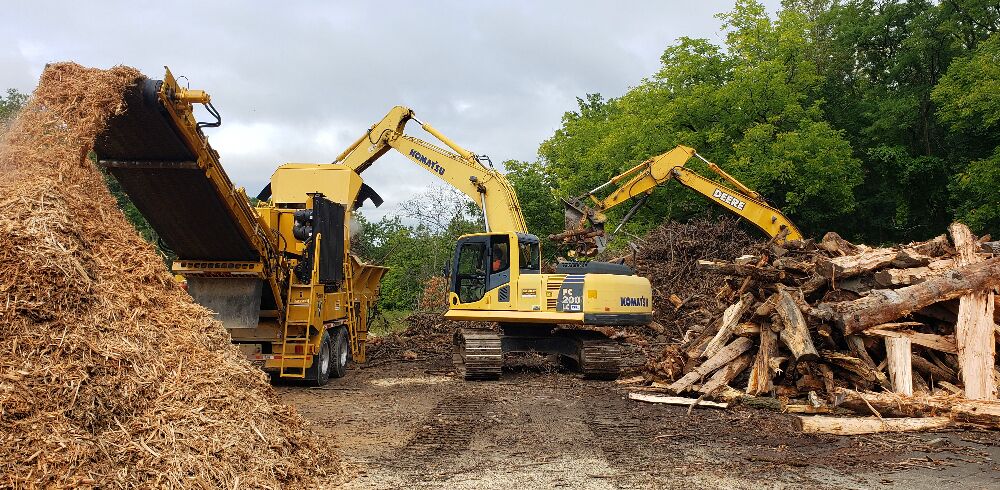 Tub grinding, or wood waste recycling, is one of the final steps in the land clearing process. This method consists of grinding and downsizing wood products such as stumps, brush, logs, or green waste.
What Sets Our Tub Grinding Services Apart?
We are one of the few land clearing companies in the area that offers tub grinding on-site.
This means we can grind all waste material into valuable mulch and redistribute it directly onto your land – which saves you the time, money, and hassle of having to haul and grind these materials off-site. Not only does this eliminate the steps necessary to remove unwanted debris from your property, but what you are left with is nutrient-rich mulch. This mulch helps to improve the health of your land and stop erosion.
We Have the Most Cutting-Edge Tub Grinders in the Industry.
We own and operate two state-of-the-art grinders that allow us to offer cleaner, more efficient, and cost-effective tub grinding services to our customers.
One of our grinders is a remote-controlled track-driven unit that can reach woodpiles in spots that are difficult to access. Our second grinder is a rubber-tired unit that can access locations the track unit cannot, such as along an asphalt driveway. In other words, between these two grinders, we can reach almost any hard-to-access location. Our horizontal grinder is the newest machine in our fleet of equipment here at Rancourt Land Clearing. It is the latest and greatest tub grinder you can buy on the market today. Almost no other company owns this machine to date.
How does our modern equipment benefit you?
Get the Job Done Faster and More Efficiently
With an advanced engine monitoring system, our new horizontal grinder can auto-adjust its grinding speed to increase productivity. And with its latest infeed table design, material loading is easier and more efficient than ever.
Reduce the Impact on Your Land & the Environment
The mulch our grinders produce is extremely beneficial to your land and an essential part of mitigating erosion. Additionally, our newest grinder is equipped with the latest Tier 4 emission, which reduces two key pollutants: particulate matter and nitrogen oxide. Particulate Matter exposure has been shown to have adverse health effects on the respiratory system, while nitrogen oxide is known to contribute to ground-level ozone formation.
Get a Higher Quality End Product
Our tub grinding equipment provides optimal cutting performance, which means you will receive a more consistently chipped end product.
Increase Job Site Safety
With technology that reduces the quantity and distance of thrown material debris, our equipment improves job site safety. And with four decades of industry experience, our team has the expertise necessary to operate this equipment in the safest manner possible, reducing liability and ensuring a safe construction site for you to begin your work.

Benefit from On-site Mulching Services
Our equipment enables us to transform any pile of stumps or wood waste into valuable mulch, right on-site.
What are the benefits of this mulch?
Improves your landscape
Adds essential nutrients to your soil
Mitigates erosion
The mulch that is produced from our tub grinders is full of nutrients and can be used to filter silt from rain runoff. Adding this mulch to your land can improve everything from curb-appeal to erosion. We also offer mulch removal services whenever necessary. If you are looking for an experienced land clearing company that offers on-site tub grinding services contact us today to learn more about how we can help you!